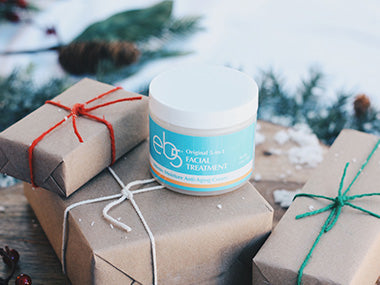 The trees are being trimmed, lights are dazzling, and this year's holiday shopping season has begun! Beat the crowds and get all you need for everyone's wish list early so you can truly enjoy all the season has to offer come December 1st. From the skincare lover to the active friend in your life, we have rounded up some of this year's top-gifts for women over 50. Ready to shop?
Tips for Finding the Perfect Gift for Women Over 50
Before we dive into the plethora of holiday gift options, we wanted to touch base on some foundational tips to help you shop this season. Searching for a gift for anyone can be a daunting task, and as we women age, our tastes may change, we may opt for a less-cluttered house, etc. All of these factors into gift shopping. Some go-to tips we always advise include:
Try and find an experience you can gift, rather than an item

Don't be afraid to ask point-blank what she might like to receive

Tag in other family members for a group present or some collaborative gift-giving

Handmade gifts never go out of style
eb5 Gift Guide
With your list in tow and holiday music blasting from the radio, get ready for your annual shopping extravaganza! We've broken down some thoughtful, go-to gifts for every lovely lady in your life. From your sister to your best friend to coworkers, this list has something for everyone!
For the active & health-conscious women
No matter the age, we all have a friend who loves any and all physical activity. Avid walker? Aerobics connoisseur? For women over 50, a new gym membership doesn't always scream, "fun!" But there are other options to embrace your friend's love of healthy living. Whatever the activity a few must-have gifts on any fit lady's list are:
Yoga studio gift card (check with your local studios to find one that offers gentle, restorative yoga, some studios even have yoga for seniors or chair yoga)

Fitness tracker - keep track of sleep, heart rate, steps & more, while never losing a beat

At-home workout equipment like resistance bands, pedal exerciser or even a hula hoop
For the lady who loves her skin
We know all the experts say to steer clear of giving any skincare or such as a gift, especially to women. But we know there are ladies out there who love boasting about their skincare products and routine, so why not give her something towards what she loves the most? 
A relaxing facial treatment or spa day

Stock her up on her

favorite skincare products

. Try bundling her favorites together for a spa-mazing gift basket.

Good skin starts from within, which means ample beauty sleep.

A new sleeping mask

will help with the Z's and wrinkles.
For the on-trend, stylish friend
Has your friend been stylin' over 50, 60, 70 years old? Age never stops the love for fashion, and it shouldn't stop the trendy gifts either. For older women who rock their style with pride and are always on the lookout for the next best trend, we have some must-have fashionista gifts.
Renew the subscription to her favorite (or subscribe to a new favorite) fashion magazine

A new pair of aromatherapy spa or fluffy slippers & a fresh cozy robe will keep her stylish behind the scenes, too. 

Start her with

a new subscription clothing box

to keep her on-trend and on-budget.
For the gal pal with a bunch of grandkids
There are picture frames of smiling kiddos and proud parents throughout her house, and every phone call begins with the newest grandchild's adventure. Luckily, when there's a bunch of cute kids around, finding meaningful gifts is a breeze!
Personalized jewelry is so versatile from birthstone pendants, to milestone bracelets, and more. Elegant, beautiful, and so thoughtful.

Print, mat, and frame one of her favorite family portraits.

A custom family sign or item such as a blanket is well-loved by Grandma's everywhere!
Give the gift of youthful skin with an eb5 bundle! 
Still not sure what to get everyone on your list? eb5 skincare is a gift that truly keeps on giving, for years to come! If you're an eb5 loyalist already you know what a treat is was to try your first moisturizer or anti-aging toner. With our bundle deals, you can start your favorite ladies off with a simple, 3-step skincare routine that will keep them glowing well into the new year!