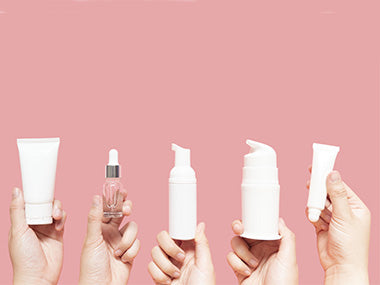 Understanding the Varying Skin Types 
Everyone is made up of unique qualities and characteristics, from taste buds to eye color, and everything in between. But what about our varying skin types? Each of us has a personalized skin type based on several factors, from genetics to lifestyle. Understanding your skin type is a critical component in creating the perfect anti-aging skincare routine. What may work for one skin type doesn't always provide the same benefits for another. 
Of course, all of these individual types can differ, too. Think of it as a sliding scale for skin! We've broken down the four most common skin types and let you in on some tricks and tips catered to each type. In addition to laying out the skin-type roadmap, we also have some easy adjustments you can make to better suit your unique skin.
Dry Skin Type
We've all endured the obstacle of dreaded dry skin. But those with a dry skin type suffer from that flaky, tight feeling all the time and are even more susceptible to redness and fine lines due to the lack of moisture. As we age, our skin naturally needs a little boost of extra hydration and plump to combat wrinkles and blemishes. Ensuring your skin is receiving plenty of hydration and protection are the two vital components to taking care of dryness!
Skin Goal: Repair, protect & repeat!
The dry skin type has trouble absorbing and maintaining a balance of moisture, which creates an easy path for flakes, cracks, wrinkles, and irritation to form. It's crucial to keep your skin clear of dead skin cells to keep it fresh. The build-up of these unwanted skin cells is a significant factor in the appearance of dry skin. With gentle exfoliation, you can rid your skin of impurities and expired skin cells creating a smooth, fresh surface ready to stay hydrated! 
Skincare Switch:
Heal and seal is the motto for dry skin. Start and end your day with a cleansing lotion, followed with a rich moisturizer. This will help heal any cracked skin and smooth the skin's surface while sealing in much needed extra hydration. 
Bonus tip: Try reaching for a broad-spectrum daily moisturizer to protect your skin all day long. At night, rub on some heavier, rich moisturizer for all-night-healing hydration!
Oily Skin Type
Naturally, our skin produces oils to keep itself moisturized; however, unlike the dry skin type, oily skin types emit an excessive amount of natural oils. Typically individuals with oily skin have larger pores, too. With larger pores, the oil glands are often more active than the average, which causes the over secretion. Oily skin throughout the day can lead to an increase in breakouts and blemishes. 
Skin Goal: Ditch the shine & get glowing!
In most cases, genetics can be a significant cause of oily skin because of the direct connection to our skin's glands. When thinking about a skincare routine for oily skin, an essential component is trying to lessen the oil production activity, which entails light, yet adequate hydration, and pore minimization.
The extra oil increases the chances of bacteria breeding on your skin's surface. This, of course, leads to more impurities and blemishes. The trick is to lessen oil production without over-drying the skin because that leads to a whole other plethora of problems!
Skincare Switch: 
Along with a daily, gentle, exfoliating cleanse, incorporate an alcohol-free toner into your everyday routine. Both in the morning and evening, remove excess oil and renew your skin with a gentle, balancing toner!
Here's our favorite anti-aging toner works amazing with our AHA Cleansing Lotion & Intense Moisture Anti-Aging Cream!
Balanced/Combination Skin Type
There are plenty of people whose skin can change any given day, maybe varying seasonally or even during specific hormonal transitions. However, on a typical day to day, those with a balanced, aka combination skin type encompass those who may have oily t-zones and dry in other areas. The trick here is finding the right products and routines that can target multiple skin types while maintaining the skin's overall balance.
Skin Goal: Targeted treatment, maintained balance!
Typically, combination skin has heavy oil production across the forehead and along the nose, also known as the "t zone." The cheeks and chin usually stay on the drier side, making your skin's surface a bit tricky to maneuver around. By interchanging and rotating certain skincare products, you can keep a balanced complexion all around. 
Skincare Switch:
Try and target both dry and oily skin nuances with your daily skincare routine. Mix in a daily cleansing lotion to exfoliate any unwanted skin cells, followed with a toner to target any oily t-zone areas. Don't forget about moisturizer!
Bonus tip: If your combination skin entails an extra oily t-zone, try targeting that area with a weekly clay mask to help combat excess oil production!
A mineral red clay mask is a spa-mazing way to treat your skin & ease any imperfections. Click here for our favorite one!
Sun-Exposed Skin
The big golden sun graces us with warmth and ample Vitamin D, but it also casts harmful UV rays down, which can cause some severe skin damage. As we age, it's crucial to continue to protect our skin from the sun, especially if you want to reduce and prevent wrinkles, age spots, and other aging skin concerns.
Skin Goal: Sun-kissed skin, damage free!
You can avoid premature aging by adequately protecting your skin from the sun. Unfortunately, not all sunscreens are made to protect our skin from all of the varying rays. The best facial sunscreens not only protect your skin from UVA/UVB rays, but it also doesn't clog your pores or leave your skin feeling heavy and oily. Other nourishing ingredients like Oat Kernel, Vitamin A, and Vitamin B help keep your skin healthy while protecting it! 
Skincare Switch:
Try incorporating a light, daily facial moisturizer with broad-spectrum SPF into your skincare routine.


Here is our go-to sun-protecting facial lotion!
Age Gracefully with Any Skin Type
Whether your skin tends to stay a bit drier or needs a little more balance, the key is still to age with grace and ease. Understanding your core skin type is the first step in creating a skincare routine fit for you and your skin's needs, including anti-aging! When we take care of our skin, wrinkles lessen, fine lines blur, dark spots fade, and everything seems to be firmer and brighter. Maintaining that youthful glow begins with catering your eb5 skincare regimen to your specific needs.
Still not sure which skin type you have? Curious about learning more about your skin type? Take our quick & easy Skin Quiz to find out where your skin lands and receive a free, personalized skincare routine customized for your unique type!