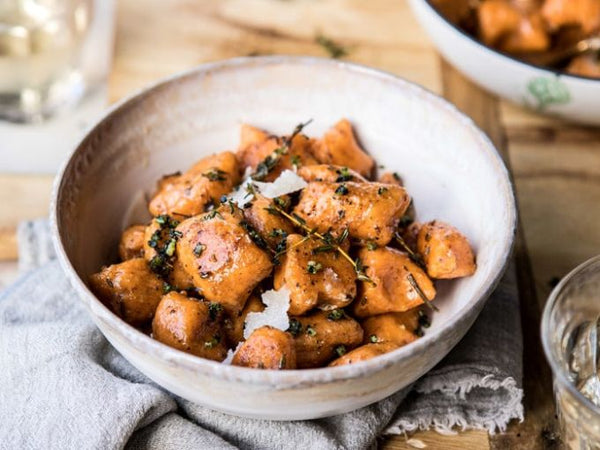 Has anyone told Mother Nature that it's supposed to be fall? Temperatures may still be high, but that won't stop us from savoring all of the fall flavors. Half Baked Harvest, one of our eb5 favorite bloggers, recently shared a recipe with savory sweet potato and an herbed wine sauce that will bring autumn right into your home. Enjoy!
Sweet Potato Gnocchi With Herbed White Wine Pan Sauce
Gnocchi Ingredients: 
2 medium sweet potatoes
1/2 cup whole milk ricotta
1 large egg
2-3 cups all purpose flour
1 teaspoon kosher salt
Herbed White Wine Pan Sauce:
6 tablespoons salted butter
1 shallot, chopped
2 tablespoons fresh thyme leaves
2 teaspoons chopped fresh rosemary
1/2 cup dry white wine
1 pinch cayenne pepper
kosher salt and pepper
1/2 cup shaved parmesan cheese
Instructions: 
1. Preheat your oven to 400 degrees F.

2. Poke a few holes in the sweet potatoes and bake for 45 minutes or until soft and tender. When the sweet potatoes are cooked, slice them in half, allow to cool, and finely mash or puree them.

3. In a large bowl, mix together the sweet potatoes, ricotta, egg, salt, and flour. Stir the mixture until just combined. If the dough seems wet, add a tablespoon of flour at a time, until it can be formed into a ball. The dough should be sticky.

4. Generously flour a clean counter and scrape the dough out onto it. Cut the dough into four equal pieces. Working with one piece of dough at a time, roll the dough into a rope about 1 inch thick and cut into bite size pieces. Repeat this process with the other pieces of dough and place the gnocchi on a baking sheet that has been dusted with flour. At this point, the gnocchi can be kept covered in the fridge for up to 1 day, and then boiled just before you are ready to eat. Or boiled right away.

5. To make the sauce. Heat the butter and shallot in a large skillet over medium-high heat and cook until the shallot is fragrant and the butter begins to brown, about 3-5 minutes. Stir in the thyme and rosemary and cook 1 minute. Add the wine and cayenne, and season with salt and pepper. Simmer the sauce for 3-5 minutes. Keep warm over low heat.

6. Bring a large pot of salted water to a boil. Boil the gnocchi until they float to the top and are cooked through, about 3-4 minutes. Remove the gnocchi using a slotted spoon or spider strainer and drop right into the sauce, gently tossing to combine. If the sauce thickens up, add a splash of the gnocchi cooking water to thin it a bit.

7. Divide the gnocchi among bowls. Top with manchego. EAT!