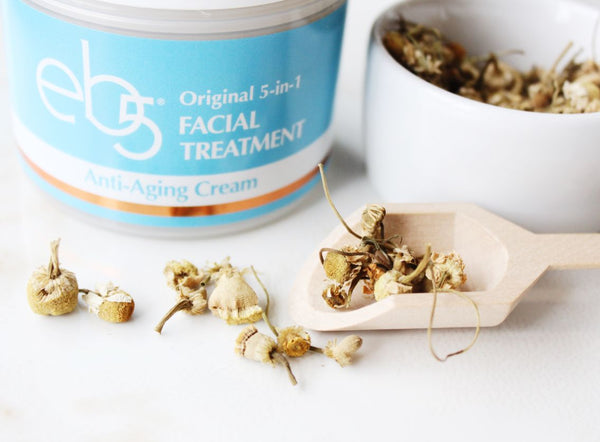 More people in their 20's, 30's, & 40's are beginning to really care about their skin — as you should. You drink the recommended eight glasses of water a day, you never sleep in makeup and you use a moisturizer day and night, because… duh. And yet, you might not be totally committed to a wrinkle cream or other anti-aging skincare system because you're only 27. Or 32. Or 25.
Regardless, choosing a Vitamin-rich anti aging wrinkle cream is the best way to prevent the signs of aging from happening earlier than they have to. Instead of treating the wrinkles once they develop and deepen, why not give your skin the goodness it craves and prevent them? Hold on to that youthful spirit (and glow!) as long as you can.
While getting a head start on preventing wrinkles, keep a few things in mind:
You don't need a super potent anti-aging skin care product. Instead, reach for a product, like eb5, whose formula includes Vitamin E and Vitamin B5 as the two main ingredients. Effective wrinkle creams don't have to be complicated.
Don't ignore your neck when beginning to pre-treat your skin and take preventative measures with anti-aging wrinkle creams. Treat it as an extension of your face and know this — it doesn't have as much bone structure as the face, so poor necks everywhere will inevitably age faster than the face.
Treat the eye area as its own entity, too. It's the most delicate skin on the face and ages quicker due to smiling, squinting and belly laughing. Some even say crows feet tell stories. But they don't have to  — luckily, we have social media for that. Choose a nutrient-rich eye cream to keep those peepers looking young. Dry skin around the eyes eventually can't smooth themselves out, so they need moisture every. single. day.
Anti-aging skincare doesn't have to be insanely expensive. eb5 products are totally affordable and truly work. Just ask your grandma. She probably remembers the days when peach-colored eb5 jars were stocked in JcPenney, which are still around, by the way.
But don't just take our word for it. Generations of customers love and trust eb5 for so many reasons! Just read some of the reviews from customers who know it to be the best wrinkle cream on the market!