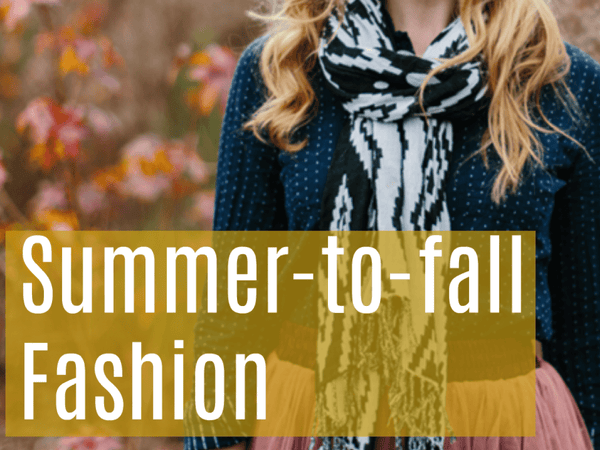 It's finally fall! Does it feel like autumn where you are, though? Regardless of where you live, and whether the temperatures have began to dip, you can seamlessly transition some of your favorite pieces from your summer wardrobe to create versatile and fashionable outfits for fall. As it turns out, you don't have to pack the summer clothes away. Simply follow our tips below. 
1.  Tanks and t-shirts + Cardigans
Thin, soft and breezy t-shirts can stick around because they can be worn under cardigans and sweaters. Layering is everything! Try them under denim jackets, chambray shirts, plaid button downs and even trench coats.
2.  Summer dresses + Denim or Leather

Don't stick those bright summer dresses away just yet. Throw a leather bomber jacket over them or wear one with a warmer denim jacket to take the look from summer to fall.
3.  Jumpsuits + Denim 
It was certainly the "summer of the jumpsuit," but that trend doesn't have to end there. Just like your summer dresses, transition those full-length or gaucho-style jumpsuits with light jackets on top.
4.  Maxi dresses + Leather bombers or Denim Jackets
Maxi dresses can be sometimes too warm in the hot summer heat, and that makes them perfect for that period between hot days and winter temps. Especially when worn with denim or leather jackets, your flowy maxi dresses will be re-purposed in no time.
5.  Scarves + ANYTHING
Again, layering is the key this time of year. Take virtually any outfit and throw on a scarf for a visible fall look and added warmth. Scarves work with any outfit this time of year.
6.  Shorts + Sweaters
There will be days when it's hot at noon and cools waaay down in the evening. Shorts and skirts with warmer tops are the solution. Shorts and sweaters, shorts and pullovers, skirts and longsleeved shirts, skirts and a longsleeved chambray top… the possibilities are endless.
7.  Bright colors + Fall Neutrals
Regardless of what styles you throw on this fall, play around with bright summery colors and fall neutrals. They go surprisingly well together, and you can still hold on to that last piece of summer.
Have fun with fall fashion! What's not so fun, though? The way skin becomes drier with cooler temperatures. And dry skin leads to aging. However, eb5's

5-in-1 Intense Moisture Anti-Aging Cream

delivers the moisture you need with just a pea-sized amount of product! No dry-skin-scaries here!