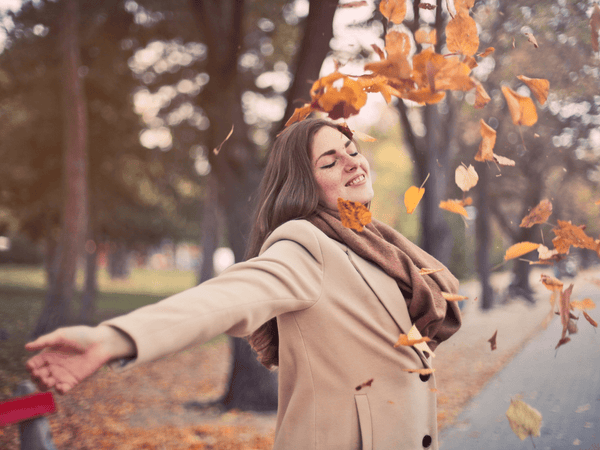 "It's fall. Do I really need to adjust my skincare regimen for the changing season?" We say, yes — just a bit. And that's because skincare isn't exactly a "one size fits all" type of thing. It's not even a "one routine fits all seasons" type of thing, which can be a bit of a hassle. But don't let that stop you from truly investing in what your skin needs during the changing seasons. Check out these seamlessly easy ways to keep up with fall, its drier air and its cooler temperatures.
1.  If you've been using a lightweight lotion, switch to a cream, like eb5's Intense Moisture 5-in-1 Anti-Aging facial cream. It's rich formula will deliver the perfect amount of moisture, especially during months where air is colder and drier and therefore directly affecting your skin in similar ways.
2.  Use extra lip protection. Your lips are often completely exposed, just like your face, and will dry out if they aren't too, protected properly. Always have a lip balm on hand to provide proper moisture in the colder months, and when you're exposed to indoor heat, which is also surprisingly drying to skin. Try some of our favorite organic lip balms for those colder, drier autumn months.   
3.  Invest in a hand cream. Hands take more of a beating than we sometimes recognize. We use them for nearly everything. They're like our little worker bees and environmental elements dry them out significantly. If left unprotected, they become super dry, irritated and cracked  — ouch! Find a hand cream that treats them right and keeps them just as protected as your hydrated face.
4.  Exfoliate dead skin. In order for skin to feel fresh and hydrated, dead skin cells need to first be removed. Try eb5's gentle AHA Cleansing Lotion that uses Lactic Acid to gently exfoliate dead skin cells. Or, choose an exfoliator with grittier beads or a physical scrub. Once you have a fresh-faced canvas, hydration is yours for the taking. Simply apply the aforementioned Intense Moisture 5-in-1 Anti-Aging facial cream after each round of exfoliation. 
5.  Keep sunscreen handy. Sunscreen is a go-to product in the summer for obvious reasons, and while it's true that the sun isn't as strong in the fall and winter months, our skin can still absorb damaging UVA/UVB rays. Always protect sun-exposed skin. 
6. Use an exfoliating mask every once in a while. Treat skin to Red Clay and a dose of minerals when it feels dry and dull. Try a clay mask that is great for both aging skin, as well as acne prone skin. It will smooth and tighten, while absorbing excess oils and impurities. To avoid overly dry skin, use it one to two times per week. 
Small adjustments can make a big difference in the fall and winter. Keep in mind these three things: a heavier moisturizer, routine exfoliation and SPF protection on a daily basis. Easy, peasy!