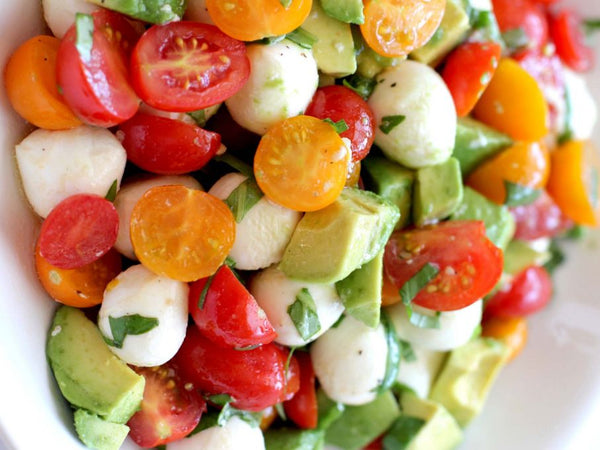 In the heat of summer, the last thing you want to do is heat up your kitchen with an oven. With this easy Avocado Tomato Salad you get the best of both worlds — a light, summery meal without any heat or mess. Less than 10 ingredients and 10 minutes of prep time? Yes please!
Tomato Mozzarella Avocado Salad
Courtesy of Green Valley Kitchen
Ingredients:
2 cups cherry tomatoes, sliced in half
8 oz fresh mozzarella
1 avocado
15 fresh basil leaves
Dressing:
2 Tbs olive oil
1 Tbs white balsamic vinegar
1 tsp honey
1 tsp minced garlic
freshly ground pepper
pinch of salt
Directions:
Slice and dice the tomatoes and avocado until they are roughly the same size. Add mozzarella pieces and chopped basil leaves to the bowl and stir. Whisk dressing ingredients together and pour over the tomato, mozzarella, and avocado mixture. 
Enjoy!