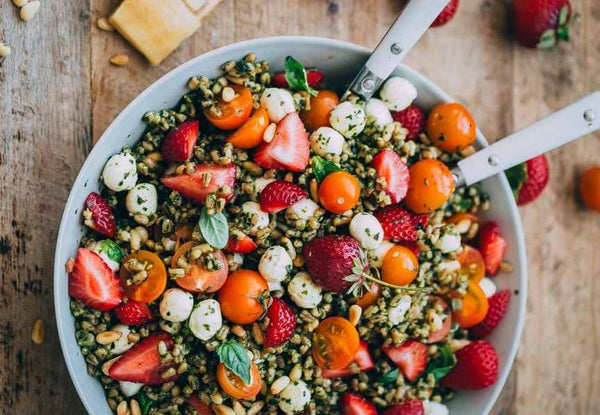 June 21st may be the official start of summer, but we like to celebrate it early on Memorial Day Weekend! Nothing says "it's summer" quite like juicy strawberries, and we've found the perfect recipe for all of your Memorial Day festivities. Whether you're out on the beach or barbecuing in the backyard, this Strawberry Caprese Farro Salad is the perfect dish to start your summer!
Ingredients:
1 cup farro, rinsed
⅓ cup fresh pesto
1 package of fresh strawberries
5 oz fresh mozzarella pearls
3 oz heirloom tomatoes, halved
Directions:
Fill a medium saucepan with cold, salted water and bring to a boil. Add the rinsed farro and cook for 25 to 30 minutes, stirring occasionally, until the farro is tender.
Drain the farro and spread into a thin layer on a clean, dry sheet pan. Cool completely at room temperature or in the refrigerator if you're in a hurry.
Hull and quarter the strawberries. Once the farro has cooled, place in a large mixing or serving bowl and generously toss with pesto until evenly coated. Add the strawberries, mozzarella pearls, and tomatoes. Toss gently. Season to taste with salt and pepper. Serve at room temperature.
Pro Tip: If you're bringing this dish to a picnic or somewhere other than your home, keep the prepared ingredients separate until you arrive to prevent sogginess. Combine, then serve!
Source: A Beautiful Plate