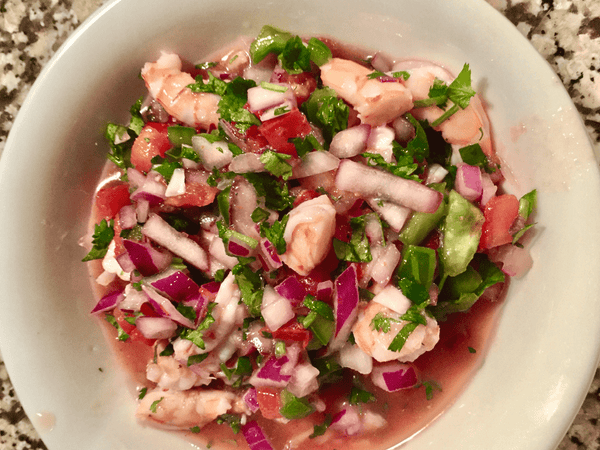 Adults don't get summer breaks, and that's a bummer. But we can still make the most of the summer months by doing things we love, albeit in our very limited free time. My favorite way to do this is by trying all sorts of summery food and recipes. Things that might be served cold, or made with seafood and mixed with bright citrusy flavors like lemon and lime. All of it makes me do a little happy dance, and I can't get enough. Some of the best summer recipes are ones that require minimal use of the stove, oven or grill. Rather, just the fridge! What a practical concept. So this week I bring to you a simple recipe that quite literally needs the refrigerator to "cook." And in these hot, hot days of summer, that is a true treat. Enjoy whipping together some tasty, tangy and refreshingly chilled ceviche.
INGREDIENTS:
1 lb cooked (boiled) shrimp, whole or chopped into bits
1 red onion, thinly sliced or finely diced
2 tomatoes, diced
1 bell pepper, diced
Juice of 5-7 limes
Juice of 1 orange
¼ cup ketchup or tomato juice
½ bunch of cilantro, finely chopped
Salt, pepper, olive oil (to taste)
DIRECTIONS:
Mix all ingredients in a large bowl and let sit in the fridge for one to two hours. This allows all those delicious flavors to mix, mingle and deliver amazing taste when ready. Serve with crackers, crunchy plantain chips or tostadas. Enjoy this chilled shrimp ceviche on a patio as the sun sets and just… take it all in. And fun fact — a 4 ounce serving of shrimp serves up about 28% of your daily vitamin B12 needs, one of the main ingredients in all of your favorite anti-aging skincare products! Happy summer!