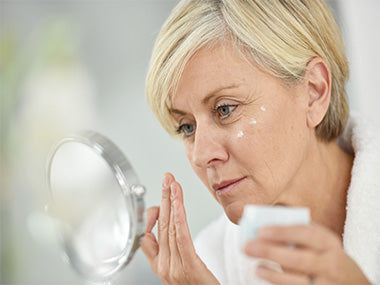 Time to Rev Up Your Skincare Routine
Skincare has come a long way since our first Anti-Aging Facial Cream was born over 50 years ago. The foundation of our formula still holds true against the new trends, fabs, and must-haves. However, we do have some go-to tricks on how to rev up your skincare routine easily. Whether you're seeking plumper skin, suffering from blemishes, or craving that effortless, youthful glow, these steps will blend perfectly into your current routine!
Given the numerous amounts of choices and information tossed around, we understand that finding a skincare ritual can be daunting. We are proud to offer skincare products our customers have come to know and loved for decades. We are even more excited to share the latest and greatest with our eb5 community.
Finding a routine that works for you is key, and everyone's schedule and skin are different! We have some simple steps and switches you can make to effortlessly create a fresh new regimen that will keep your skin glowing!
Break Your Routine Down to Simple Steps
It's all about ease and effectiveness when it comes to caring for your skin. If you are looking to combat signs of aging and protect your skin, there are a few key steps to include in your routine. Preventative care is the most powerful way to keep your skin young and healthy. By consistently practicing step-by-step habits, you will actively protect, prevent, and ease aging skin.
Three steps we always recommend you incorporate into your everyday schedule are:
Cleanse
Tone
Moisturize
There are varying cleansers, toners, and moisturizers out there ideal for different skin types. If you are hitting those three main points every day, your skin will sincerely thank you!
Want an easy-to-follow, effective three-step skincare routine? Click here!
Say "Yes" to serums!
It may feel like every day there is a new magic product hitting the market, and it may be challenging to decipher the necessary versus the novelty. One on-trend product that we stand by is the importance of serums. Serums are not all made the same, so again, it's crucial to find a serum targeting your needs, but the benefits are endless!
Serums and anti-aging go together like PB&J. When used regularly with proper moisturizing and cleansing routines, serums can kick your skin health up a notch.
Deeply penetrate your skin to help form new collagen with highly repairing ingredients such as those found in our  Advanced Repair Peptide Serum or Vitamin C Serum. These options add extra essential Vitamins and improve the overall vibrancy of your skin!
Protect Your Skin from the Sun
The days of rubbing on baby oil and roasting in the sun are well behind us. Due to the influx of profound new research, we truly understand the importance of protecting our skin from the sun's rays. Especially as you age, your skin needs extra help in warding off harmful UV rays and damaging sun exposure. By reaching for a moisturizer with added SPF broad-spectrum protection, you can easily ensure your skin is only soaking in the good stuff from the sun!
Get Enough Sleep
"Beauty sleep" is an age-old tune that still rings true today. The importance of sleep has risen as the stimulants during our day-to-day life increases. The rise in electronics, population, and other environmental factors leads to an extreme lack of restful sleep for the majority of society. On average, you should try and aim to get about 7-9 hours of sleep every night. This will not only aid aging skin, but your overall health will thank you!
Treat Your Skin to Spa Masks
Light a candle, dim the lights, draw a bath, and get ready for some self-care! A big wave of at-home spa remedies is something we can get behind. Who doesn't love a relaxing ambiance and nourishing masks? To keep your skin feeling and looking radiant, you should opt for an occasional deep-clean using a face mask. 
Using a clay mask, in particular, creates a deep, luxurious clean that penetrates your skin and helps absorb and pull out impurities. You are also getting a great exfoliation ridding your skin of dead cells, leaving your face bright, fresh, and glowing. So, kick your feet up and dive into some skincare luxury.
Keep Your Skincare Routine Consistent
There are endless ways to rev up your skincare routine; however, consistency is always key. Whether you're seeking an in-depth clean or a simple, daily routine, your skin benefits most when you keep up with preventative practices and nourishing treatments.
By creating easy-to-stick-to habits and using the best skincare products fit for your skin type, you can ease signs of aging and keep your skin looking young and healthy!
Not sure where to start with your skincare regimen?
Try taking our Skin Type quiz to find a personalized routine for you!