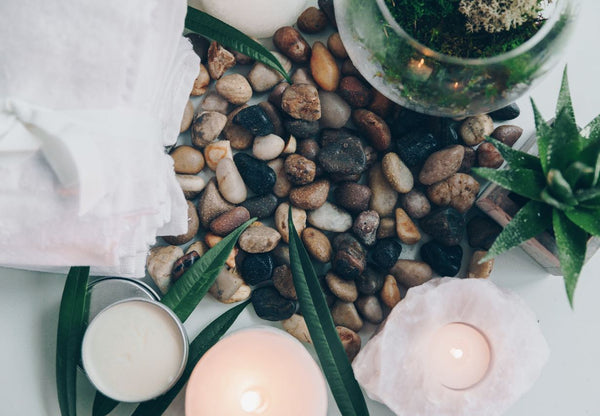 There's no gift you can give your mother to repay her for all that she has done for you - But that doesn't mean you shouldn't try! Don't find yourself scrambling at the last minute to find a generic Mother's Day gift or settling for flowers. Even if she says she doesn't want anything (come on, Mom), she deserves to be pampered this Mother's Day. We've compiled a spa themed gift guide to help you find a gift for even the hardest mothers to shop for.
eb5 Facial Skincare System
We may be biased, but we think this is the perfect, pampering Mother's Day gift. With a gently exfoliating cleanser, alcohol-free toner, and ultra-luxurious face cream, eb5 Facial Skincare System is the perfect way to feel like you're at the spa every day. With just 3 short steps, you can clean, tone, and hydrate your skin for that fresh facial feeling all day, every day.
Nurture My Body Hand & Body Lotion
With beautiful blue bottles and all-natural ingredients, all of Nurture My Body's products are the definition of spa-quality. Made with certified organic ingredients, their Hand & Body Lotion will have your mother feeling luxurious and pampered 24/7. Plus - they have 5 scents to choose from!
Diffuser
Nothing says relaxing like waves of lavender that fill the air in a spa. With a home diffuser, Mom can choose any essential oil to fill her home. Not only are they calming, they're also healthier than traditional wall plug ins. We love this one from Amazon that is BPA free and doubles as a calming night light.
Robe
No spa day is complete without a comfy robe! Whether your mom is more of a plush robe gal, or prefers a sleek thin one, we've got you covered.
Sheet Mask
Looking for a true at home spa experience? Face masks are a quick easy way to give your skin that youthful glow. These masks are made with 100% coconut instead of paper, which creates an even more luxurious feel. It's the perfect way for Mom to relax - even if for just 15 minutes.
This Mother's Day, show your mom how much you appreciate her by giving her the best present she could ask for 一 relaxation. Want to be the favorite child? Throw a few of these items together to create the perfect spa gift basket. Mom approved.