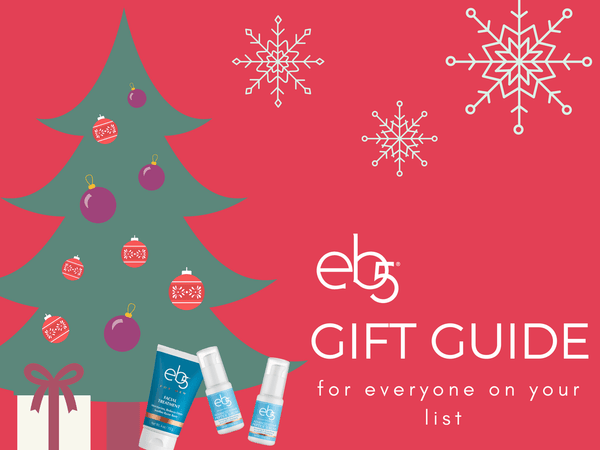 Holiday shopping for everyone on your list can be overwhelming. So if you haven't completed your shopping yet, we have a simplified idea for you. Give the gift of beautiful skin! If you've grown to love and trust your eb5 products, it's a no-brainer that the loved ones on your list will love them, too. Check out our list of products that could make great gifts for (almost) everyone on your list.
MEN
Beauty products are not exclusive to women! Men deserve to have smooth, youthful skin, too. So why not gift them the AHA Cleansing Lotion + Men's Facial Cream! They'll love how the gentle cleanser cleanses their skin of impurities, and the cream moisturizes and softens their skin afterwards.
WOMEN
Truly, you could give the gift of any eb5 product and the women of your gift-giving list would be thrilled. But to make it even simpler for you… you can't go wrong with our all time bestselling Intense Moisture Anti-Aging Cream, paired with the hardworking Advanced Repair Peptide Serum. You'll give a classic must-have eb5 cream, and a nice little luxury serum to go along with it.  
TEENS & 20 SOMETHINGS
Even though eb5 is a collection of anti-aging products, they're not only for those who already have wrinkles. Our products are so gentle and nourishing, they do a great job at preventing the signs of aging all together. And everyone needs moisture in their skincare routine. That's why the flagship Intense Moisture Anti-Aging facial cream and the Vitamin C Serum are perfect for teens and young adults. The Vitamin C serum fights free radicals that often cause acne, and leave skin bright and glowing.
FOR ANYONE 
If too many choices overwhelm you when you're just trying to get your shopping squared away, the perfect eb5 gift for each and every person (above list included) is the Three Step System. The nourishing ingredients in the Cleanser, Toner and Facial Cream will treat skin well all winter long!
Shopping done means more time to relax. Shop now!