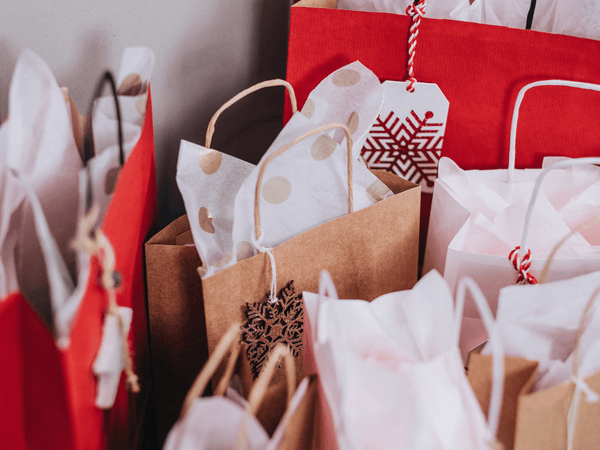 Let's cut to the chase. It isn't taboo to buy people anti-aging skincare for the holidays. Gifts of practicality, especially those that truly work, are well appreciated. Want to buy your entire family gifts from eb5? Is it actually okay to give anti-aging skincare as gifts? We say, go for it. We feel this way because eb5 skincare is not only for very mature skin. We have ladies (and gentlemen) in our office in their 20s and 30s who use eb5 products every single day — not only will your family and friends on the receiving end not be offended by eb5 gifts, but there's something for everyone, making holiday shopping that much easier on you!
The beauty in giving the gift of eb5 is that you're sharing something you love with someone you love, and letting them discover why you love it so much! Oh what fun!
Mom: This one can be tricky if your mom is already hooked on an anti-aging skincare product. But, if it's not eb5, and she's willing to stray from her usual routine, she will appreciate it in no time at all. Maybe her current anti-aging skincare is overpriced, as many of them tend to be. Maybe she's not pleased with the results. However, she will be pleased with both when you get her hooked on eb5!
The men in your life: Let's face it — it can be hard to shop for men. The eb5 Men's Facial Cream is the perfect moisturizer for any man in your life. While he might not understand why he's getting facial moisturizer at first, he's sure to really "get it" after just a couple uses.
Sisters: While the 5-in-1 Anti-aging moisturizer is great for skin of all ages and types, the Vitamin C serum is another popular favorite and pairs perfectly with the anti-aging moisturizer. Whether your sister is in her 20s, 30s, 40s or beyond, the Vitamin C serum will brighten, tighten and protect skin. Don't we all want that glowing look? 
Friends: Your friends don't yet use an anti-aging eye cream?! Show them the way with the Daily Repair Eye Treatment. The skin around the eyes is one of the first areas to show signs of aging, and studies have shown that many women begin using an under eye cream at around age 25. Pair it with a pretty little eyeshadow palette and your gal pals' favorite mascara for a gift they will seriously love!
So, while you're treating yourself to all the deals this holiday season, give the gifts of things you love and adore! And trust us, they won't be offended.
Shop the best anti-aging skincare gifts from eb5!