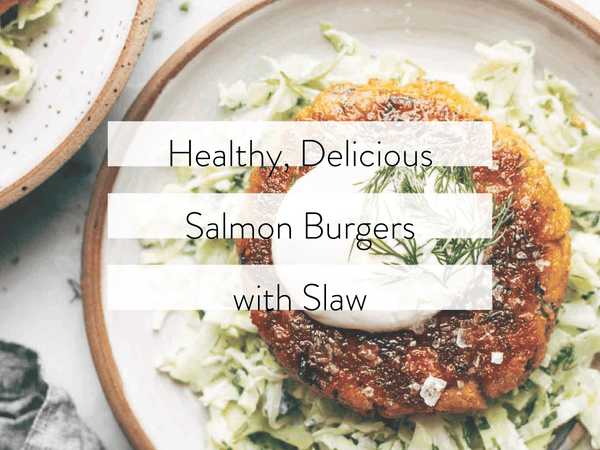 It's the middle of February and you know what that means 一 almost 75% of us have given up on our New Year's Resolutions. For the ¼ of you that are still making it to the gym, getting more sleep, or whatever your goal is:
you go girl, you're killing it.
For the rest of us, it's not too late to get back on track!
Eating healthy is an easy way to improve yourself for 2018. You don't just have to eat salads! There are so many ways to get more nutrients into your body while still eating delicious foods. I wanted to share a recipe with you from one of my favorite food bloggers - Pinch of Yum! She has so many easy, delicious recipes that can inspire you to cook at home. Because after all, half the battle is convincing yourself not to order take out! These salmon burgers with slaw are SO yummy!
Ingredients:
Salmon Burgers
12-14 oz Cooked Salmon
2 Eggs
1/2 Cup Breadcrumbs
1 teaspoon Salt
1/2 teaspoon Garlic Powder
1/4 Cup Chopped Fresh Herbs
Squeeze of Lemon Juice
Olive Oil (for pan frying)
Cabbage Slaw
1 head Green Cabbage finely shredded
1 cup Plain Greek Yogurt
2-3 Tablespoons White Distilled Vinegar
1 teaspoon Salt
1/2 teaspoon Garlic Powder
1/2 Cup Chopped Fresh Herbs
Drizzle of Olive Oil
Instructions:
Flake the salmon apart. Mix all burger ingredients together and form into 3 large or 4 medium patties. Head olive oil over medium heat, ideally in a nonstick skillet. Fry the burgers for a few minutes on each side until golden brown and crispy. Place on a paper towel lined plate and sprinkle with salt.
Mix all slaw ingredients together. Taste and adjust.
Serve up those hot salmon burgers on a bed of creamy slaw. 
Healthy, delicious dinner? Nailed it.
Eating healthy can have so many benefits. More energy, weight loss, even clearer skin! Want to give your skin an extra boost? Try our Vitamin C Serum for brighter, more even skin. Using this serum combined with eating right will show incredible results!
Thanks Pinch of Yum for this recipe! You can check this full recipe out on her blog and find so many other goodies!