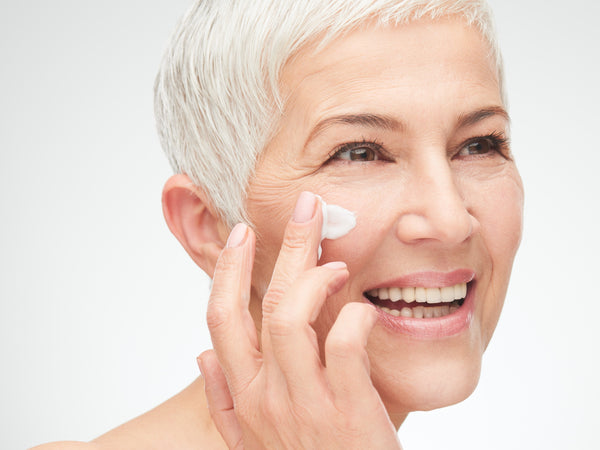 In the wondrous words of Audrey Hepburn, "The beauty of a woman must be seen from in her eyes because that is the doorway to her heart, the place where love resides." This famous beauty icon is right, our eyes are the doorway to our hearts, but they can also be a dead giveaway to our age. Our eyes are surrounded with delicate skin, susceptible to wrinkles, age spots, dryness, and more.

Are you trying to find the perfect remedy to protect your eyes from aging? We have some go-to tips on how to keep that youthful twinkle in your eyes!
Fight dark bags, circles & age spots

The dark circles under your eyes may be from lack of sleep, but as we age, the reason for sunken, dark eyes may go beyond your daily hours of shut-eye. Adding a step or two to your skincare routine will help ease the sign of dark bags and age spots under your eyes.

With some extra collagen-boosting eye cream and proper sun protection, you can begin to brighten the skin around your eyes!
Ease the appearance of fine lines & crows feet

Along with dark circles and blemishes, deep wrinkles and crow's feet can a frustrating sign of aging, as well. For fine lines and wrinkles, you want to focus on firming up the skin around your eyes in addition to adding back in some brightness.

We love adding our Advanced Repair Peptide Serum to our daily skin routine. This serum deeply penetrates the skin, forming new collagen, and releasing essential anti-aging vitamins.
Reduce puffiness & heal dry skin

Consistent evening regimens will help heal dry skin and ease swollen, puffy skin around the eyes. This includes an even routine with a deep clean, soothing toner, reparative serum, and of course, nourishing, rich hydration.

In addition to essential skincare, staying hydrated and rested can have a positive impact on reducing puffiness and dry skin. Want a little extra? Reach for a cool compress to rest on your eyes for around 10 minutes, which will reduce swelling of the skin. Some experts suggest opt to soak the compress with green tea bags to give your skin an added boost of antioxidants and brightening properties.
Avoid harmful sun exposure

When it comes to sun exposure, protection is crucial from head to toe, especially for areas as sensitive as our eyes. Along with daily sun-protecting skincare, try to always keep a pair of sunglasses on hand. This will help you avoid squinting, as well as keep your eyes shielded from UV/UVB rays, which can speed up all signs of aging.

Looking for a lightweight daily facial cream with broad-spectrum sun protection? Here's our favorite!
Implement consistent, healthy lifestyle habits
Aging gracefully includes skincare and of course, lifestyle choices. Some crucial components to keep your eyes bright, young, and vibrant include:
Enough sleep daily, aim for at least 7-9 hours every night!
Proper hydration keeps your skin glowing!
Reduce alcohol intake and avoid too much caffeine.
Stay active! Increased heart rate = increased blood flow which helps excel cell vitality.
Nourish your body with skin-boosting, healthy foods.
Want to learn more about anti-aging foods? Click here!