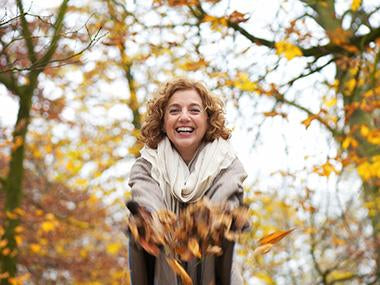 How to Keep Your Skin Youthful Through the Fall
It's the time of year when the sun starts to set a bit earlier, and the leaves ombre and crisp up, as does the air. The temperature drops a bit, and the last kiss of summer heat and humidity disappears. As we transition seasons from Summer to Fall, our skin does, too. With chillier temps comes drier air, which can leave the skin flaky, dehydrated, and susceptible to heightened signs of aging.
Do you ever think about some seasonal adjustments you can make to your skincare routine? Although these changes are small, they can make a significant impact on maintaining that youthful glow all year long. Skincare routines are unique and suited ideally for your skin type and lifestyle. 
We love a simple, efficient routine that can smoothly transition from season to season. Here are some simple, seamless ways to keep your skin healthy as we transition to colder, harsher seasons.
1. Switch to a heavier moisturizer. 
One of the leading skincare shifts, as we move into Fall, is the need for more moisture. With the crisp air sucking all of the moisture out of the air, it's essential to add that back into your skincare routine with a heavier moisturizer. Lightweight facial lotion is excellent during the hot, humid months. Keep your skin hydrated and protected against the harsher, colder air by switching to a richer moisturizer for Fall.
2. Gently exfoliate.
Exfoliation is critical when trying to combat signs of aging. It can rid the skin of unwanted dead cells and impurities. However, as we work our way into the Fall season, we want to ease up on the exfoliation a bit. To keep your skin fresh, balanced, and healthy during the chillier months, switch to a gentler exfoliator. A great option is a cleansing lotion with Lactic Acid to exfoliate your skin with ease.
3. Keep up with your SPF protection!
Don't let the drop in the temperature fool you into thinking sun protection is done for the season. Shielding our skin from the sun's harmful UV rays is a year-round duty. Use a daily SPF facial lotion to help your skin maintain a healthy complexion, as well as create an extra layer of protection against more severe sun damage and signs of aging.
Anti-aging Skin Tip: During these chillier months, feel free to layer a lighter SPF facial lotion with a richer moisturizer, your skin will enjoy the added hydration & will glow all day long!
4. Don't forget to protect & treat your lips!
Just like the rest of your face, your lips are often completely exposed to the seasonal elements which can leave them dried and cracked. Your lips need to stay hydrated, too, ensuring graceful aging. Always have a natural, moisturizing lip balm on hand to provide ample hydration and protection.
5. Incorporate occasional deep, rich cleanses.
Renewal and rest are common themes throughout the Fall and Winter months, leaving us craving cozy nights. It's also the perfect time of year to treat your skin to a deep, deluxe cleanse about once a week.
Our Red Clay mask provides a dose of enriching minerals to treat the skin when it feels dry and dull. A deep cleanse can be highly beneficial for anti-aging, as well as a potent treatment for blemished or acne-prone skin. Your skin will be left smoother and firmer thanks to the absorption of excess oils and impurities.
Want to learn more about our Red Clay Mask?
Enjoy all the beauty the Fall season has to offer!
As much as we enjoy the warmth of summer, something is comforting about the Autumn months. We are closer to the holiday season, we have more time to spend with family and friends, and it forces us to focus on caring for a skin a bit more! By making these simple switches or additions to your current anti-aging skincare routine, you will keep your skin beautiful and glowing!