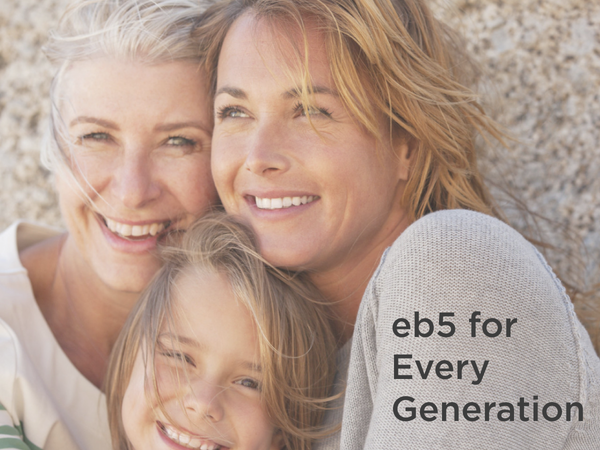 I know… it's hard to admit when your mom is right. But if your mother
and
her mother say something is worthwhile, it might be time to start listening! Women have been preaching about the effectiveness of eb5 for over 30 years for one main reason: it works.
With eb5, less is more. We believe that the best skincare lines have less complex products and more simple ingredients that you can pronounce and identify. That's what eb5 is all about, and that's why generations of women have chosen eb5. Don't believe us? Check out some of the reviews from women of all ages!
"My grandmother taught me from a young age that taking care of your skin is so important. She always used eb5, and she has my mom and I hooked on it! I guess it's true that your grandmother always knows best, because eb5 rocks!" - Amanda, 27
"I was reluctant to try eb5 because I thought it was a "grandma cream." I had seen my mom use it for years, but I was fine using whatever I picked up at the drugstore. But last Christmas, my mom gave me a jar of the 5-in-1 cream in my stocking and boy was I wrong. This cream is INFINITELY better than those cheap creams I was using. The only thing grandma about this cream is that I'll be a beautiful, wrinkle-free grandma when the time comes." - Sandy, 34
"My mother swore by eb5 for as long as I can remember. Once I got older, she passed down that love to me. Now eb5 is all I use, and I definitely don't look my age." - Lisa, 57
"I've used eb5 for more than 20 years. I am 75, and my complexion is better than all my friends, both younger and older. Just a few wrinkles. The combination of Toner, Collagen Serum and eb5 moisturizer is outstanding." - Gerri, 75
"I started using EB5 when I was in my forties. I am now 82. Everyone says I look so much younger. They ask what is my secret. I just say EB5. They say what is that?. I tell them it is a 5 cream in one, and it is wonderful, and you should try it. I won't be without it. Love it." - Sue, 82
You, your mom, and your grandmother all love eb5 for the same reason: it's skincare that's effective. Finding the perfect skincare line can be tough, but not if you listen to your mom's advice. It's tough to admit, but mom is always right!