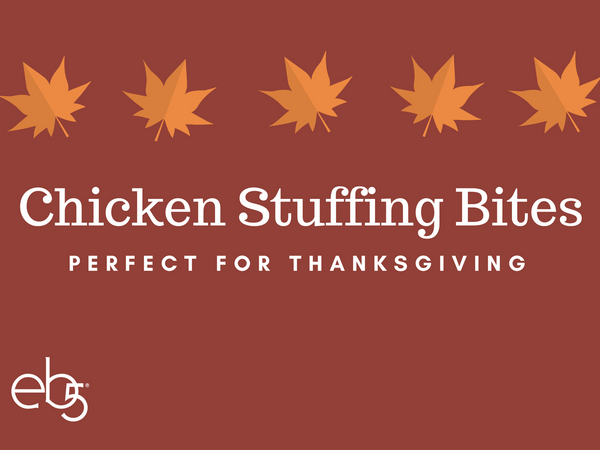 Thanksgiving is about sharing, warmth, community and togetherness. And, of course, about giving thanks — thanks for our families, thanks for our homes and happiness, and maybe even thanks for
anti-aging skin care
that does what it says it will do... We're thankful for eb5, its customers, its results, and we hope you are, too.
But this week, let's focus on a big part of next week's holiday — the food! Need a quick recipe or appetizer to bring to your Thanksgiving dinner? I have a feeling you might
love
this one. And if you make it, tell us what you think in the comments at the bottom of this page!
Ingredients
4 boneless, skinless chicken breasts
1 5-ounce box stuffing mix
1/2 cup fresh mushrooms, diced
1/2 white onion, minced
1 teaspoon sage
1 teaspoon black pepper
1 cup shredded Colby Jack cheese
2 eggs
1/2 to 3/4 cup chicken broth
Directions
Season chicken with salt and pepper, and roast in a 350 degree oven for 25-30 minutes. Cut into small pieces when cool.
Combine stuffing mix, sage, pepper, mushrooms, onion, cheese, eggs and ½ cup chicken broth. Add the chicken to the stuffing mix. If you mix seems too dry, add a bit more chicken broth. Allow the mixture to set for about 20 minutes.
Roll into bite-sized balls, and bake for 12-15 minutes.
Dip into gravy, or enjoy alone!