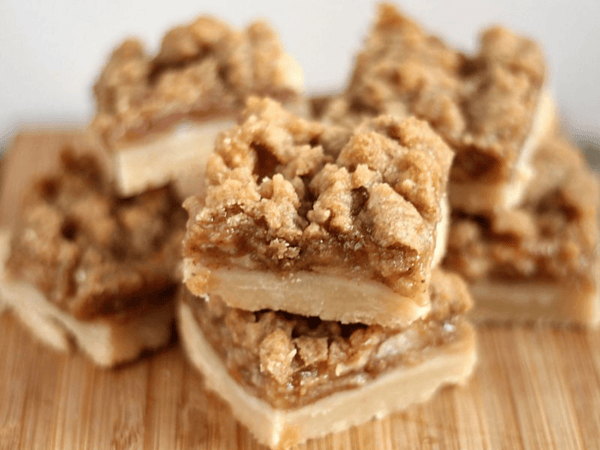 Thanksgiving is next week, and we don't know about you, but we're getting hungry. We want to keep one of our traditions going by sharing one of our staff members' favorite Thanksgiving recipes. It just so happens to be something sweet, because, why not? The holidays are amongst us, they'll certainly fly by and they are meant to be thoroughly enjoyed. So enjoy them we shall.
Apple Crisp Shortbread Bars
Ingredients:
Shortbread:
½ cup unsalted butter at room temperature
¼ cup sugar
1 teaspoon vanilla extract
¼ teaspoon salt
1 cup all-purpose flour
Filling:
3 large apples, peeled and sliced thinly
2 tablespoons all-purpose flour
2 tablespoons sugar
1 teaspoon cinnamon
¼ teaspoon ground nutmeg
Topping:
½ cup all -purpose flour
¾ cup brown sugar
¼ cup butter - melted or room temperature
Directions:
Preheat oven to 300 degrees

Line an 8x8 baking pan with parchment paper, with enough excess so you can lift your dessert out a bit later.

To make the shortbread: Place butter in mixer and cream for about five minutes. Next, mix in the sugar, salt and vanilla. After combined, follow with the flour and mix well. Press shortbread mixture into parchment paper-lined pan and bake in preheated oven for 15 minutes.

For the filling: combine the apples, flour. Sugar, cinnamon and nutmeg until all apple slices are nicely coated. Sit aside.

For the topping: Mix flour, ¾ cup brown sugar, butter and mix together.

Remove the crust from the oven, and increase oven temperature to 350 degrees.

Sprinkle half of the topping over the shortbread, then layer apple filling on top, making sure all layers are evenly distributed.

Sprinkle remaining topping on top and bake for 30 minutes.

Remove from oven, cool and place in refrigerator for at least two hours.

Lift out of pan and cut into individual squares; enjoy!
Once the table is cleared and the dishes are washed, it's time to start really gearing up for the holidays. Make your list and check it twice — eb5 makes great holiday gifts for (almost) anyone on your list. Our skincare is gentle and nourishing and perfect for twenty year olds and those with more mature skin. Shop early — you don't even have to wait for Black Friday!