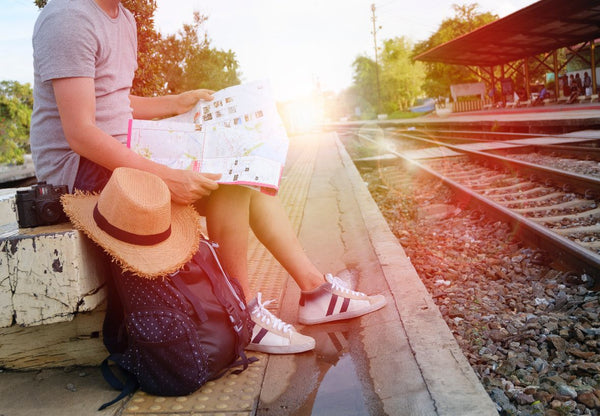 For lots of people, summer means it's time for vacation. Whether you're jet setting across the country or road tripping to a nearby beach, traveling can wreak havoc on your skin. A new environment and an interruption in your usual routine can leave your skin looking tired and dull — but it doesn't have to. Looking for ways to prevent travel skin woes? Here are 5 tips for vacation-ready, glowing skin!
Don't forget your favorite products
Just because you have limited suitcase space doesn't mean you should leave your favorite skin products behind. Changing your skincare routine, either by adding or removing products, can send your skin into panic mode. While you may not need your entire 20 product lineup, make sure to stick with your usual cleanser and moisturizer at the minimum.
Travel Light
Just because you're bringing your favorite products doesn't mean you have to bring the whole bottle! Look for travel sizes of your favorite products, or get creative with your packing! Contact lens cases work great for carrying small amounts of moisturizer or foundation.
Time for Toner!
People often think of toner as an unimportant step in a skincare routine, but when you're traveling, it can be a lifesaver. After cleansing, use toner to remove leftover dirt and grime from your daily adventures. Toner is especially helpful for removing sunscreen residue after a long beach day!
Stay Moisturized
Airplane cabins and AC-blasted cars are notoriously bad for stealing moisture from your skin. Make sure to apply an intensive moisturizer cream, like eb5's Anti-Aging Intense Moisture Cream, to prevent dry, itchy skin before you even make it to your destination!
Hydrate!
Water is the foundation of beautiful skin. Especially when you're on the go, staying hydrated keeps your skin resilient against toxins and pollution. No one can say no to another margarita, but make sure you're drinking a glass of water too! Your body will thank you for many reasons!