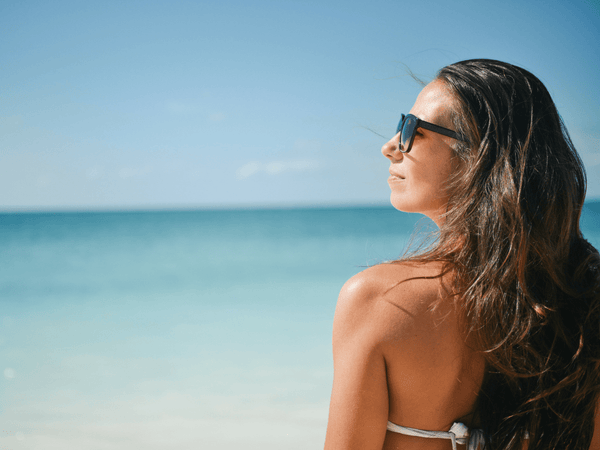 Summertime is great — summertime skin is another story. Between sun, high temperatures, drying air conditioning and never ending oil, it can be hard to put our best face forward. Here are some of our best tips to keeping skin in tip-top shape throughout the dog days of summer.
Are you constantly outside in the sun?
Prevent sunburn, sun damage that causes wrinkles, dark spots and even skin cancer by wearing sunscreen every single day! Additionally, the sun's damaging rays create free radicals in our skin that lead to significant signs of aging. Broad spectrum sunscreen protection can prevent free radical damage like this, but topical Vitamin C serum helps protect your skin from free radical attacks, too. While Vitamin C won't prevent or block sun damage, it creates a defense against free radicals, provides antioxidants to prevent aging and aids in collagen production, all while making skin look even and smooth.
Click the photo to read more about Vitamin C Serum 
Is your skin extra oily in the summer? Is oil and sweat leading to breakouts? 
If you have oily skin, and extra oily skin in the summer, make sure you're not overwashing your face. It makes sense to want to wash your face more often (to remove the excess oil) but constantly removing the oil will only trick your skin into thinking it needs to produce more. Wash once in the morning and once in before bedtime.
Exfoliating is important! Choose a gentle exfoliator, like the eb5 AHA Exfoliating Cleanser, to remove dead skin cells, dirt and makeup that could be causing more oil production than necessary. And if you do use a toner, make sure it's an alcohol-free toner, so it doesn't over dry skin and make it produce more oil.
Click the photo to read more about Exfoliating AHA Cleanser 
If all this summer oil is causing breakouts, you need to try one of our staff's tried and true Acne Clarifying Serum that uses Tea Tree Oil to clear up blemishes for good. It's gentle enough to use twice per day!
Is your skin dry?
Air conditioning, chlorine and too much sun can also cause dry skin. So if you're less oily, and more dry during these hot summer months, reach for our flagship moisturizer to keep skin hydrated and nourished — and drink plenty of water, all summer long!
Click the photo to read more about eb5 Facial Cream 
By choosing eb5 products to solve irritating summer skin issues, you're also setting your skin up to look youthful and smooth. eb5 is first and foremost, a collection of anti-aging skincare products  — they just so happen to have added benefits year round!